Made To Order Small Handmade Wood Box, Jewelry Box, Notions Box, Sewing Box, Prayer, Dreams, Hopes Box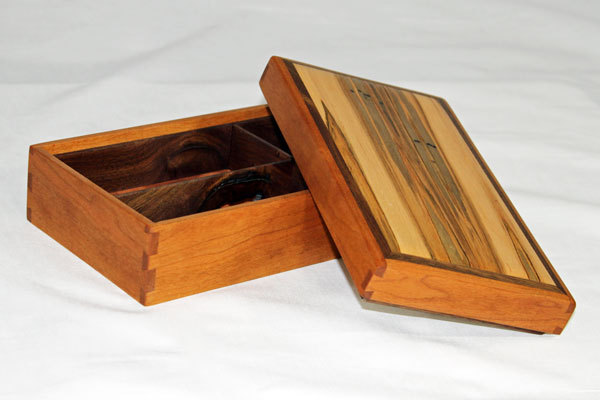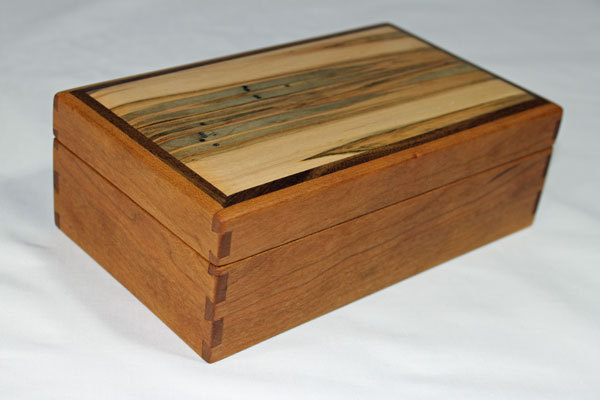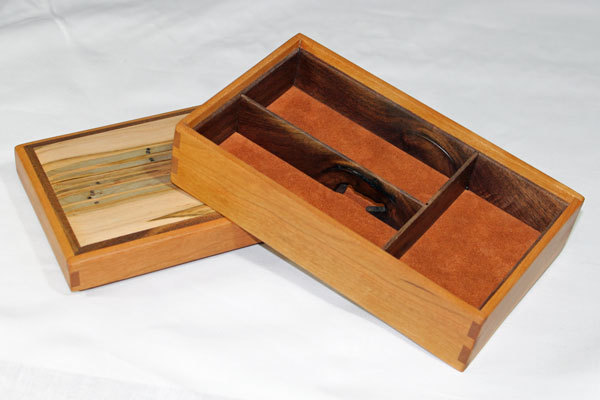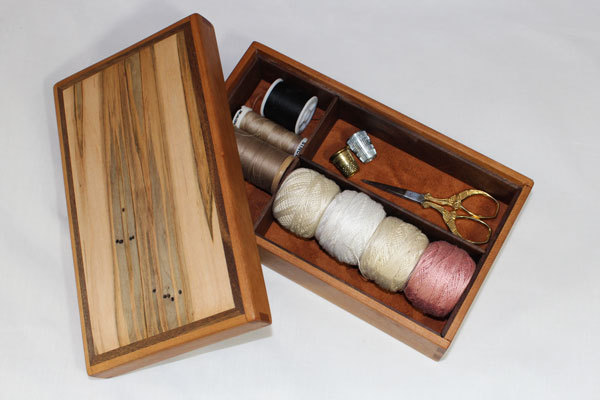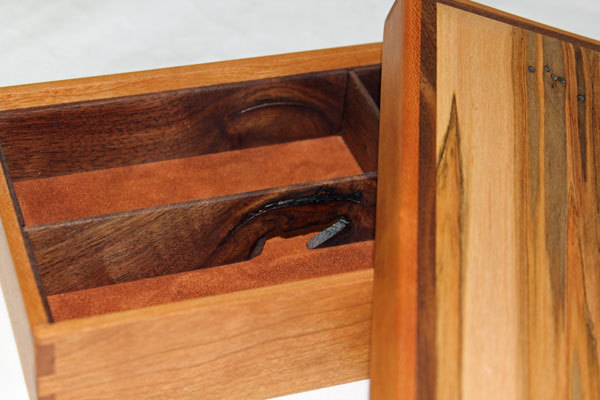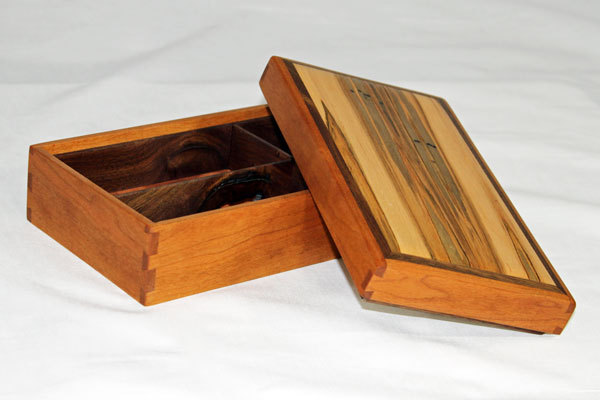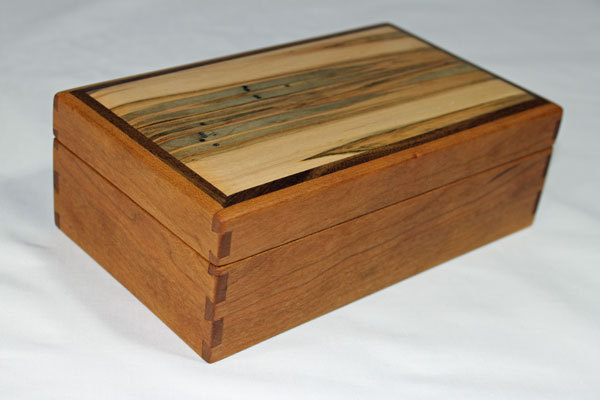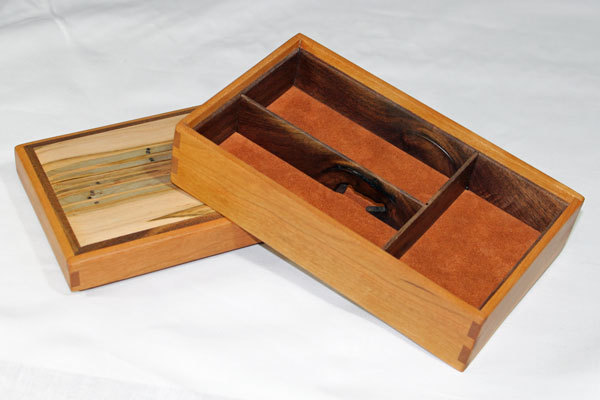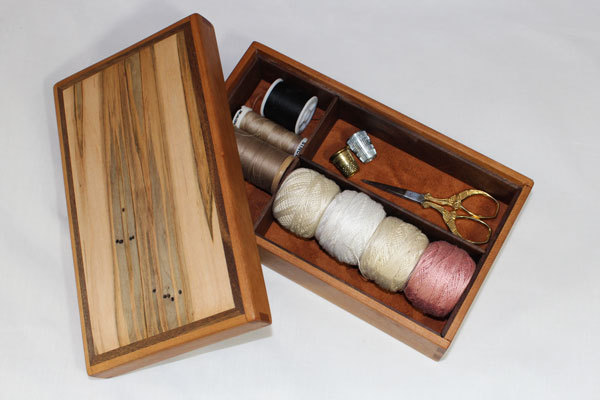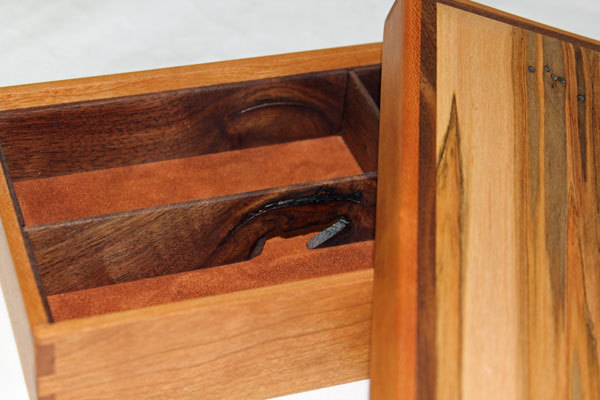 Made To Order Small Handmade Wood Box, Jewelry Box, Notions Box, Sewing Box, Prayer, Dreams, Hopes Box
This heirloom quality piece originated out of a need for my wife to have somewhere for her to store her smaller sewing items in a singular location. It's a perfect way to store those items you're always hunting for when you need to make a quick fix...needles, thread, trim scissors, buttons etc. in an inconspicuous and attractive fashion. It would also be a perfect spot to store those smaller pieces of jewelry or keepsakes.

Built with a variety of wood species, this is more than just a storage box, it's a custom creation, directed by and built, just for you.

I love the control and the care that hand-cut dovetails require; this also makes for a fine-looking and very durable joint. The interior is upholstered with a variety of suede and leathers, chosen by you. The box is then divided with as many or as few of divides as you like. The lift-out tray is upholstered in a matching suede or leather and divided to you desires. The top is held in place with a series of powerful rare earth magnets. This latch system is certainly effective, but when the box is used for sewing accessories these magnets double as a convenient pin or needle holder.

As a firm believer in building things to last, I build my boxes to withstand the tests of time. Though perfectly suitable to display as a décor piece or to hold jewelry or small trinkets, don't be afraid to use this as a working sewing box. It's sanded to 400 grit and burnished with fine steel wool for a satin smooth feel, then treated by hand with three coats of wiping varnish and two coats of wax for a silky but durable finish.

This signed and numbered box will be approximately 8 inches long by 4 inches wide and 3 inches tall. The size and color of the piece make it the perfect for keeping scissors and thread close-by for quick fixes. Though it's small enough to fit into most sewing baskets, I hope that you wouldn't hesitate to leave it out as a working art piece. I am proud to build it and I hope that you will be proud to display it.

This piece is a custom order and can be ready to ship within 3 weeks' production time. Wood grain, knots, and coloring will vary from piece to piece. The piece can be made from several different species of domestic hard and soft woods. Please contact me with questions about what woods are available.

(Sewing supplies are not included.)

Thank you for visiting the store and believing in hand made products.